Top 5 HubSpot workflows for your brokerage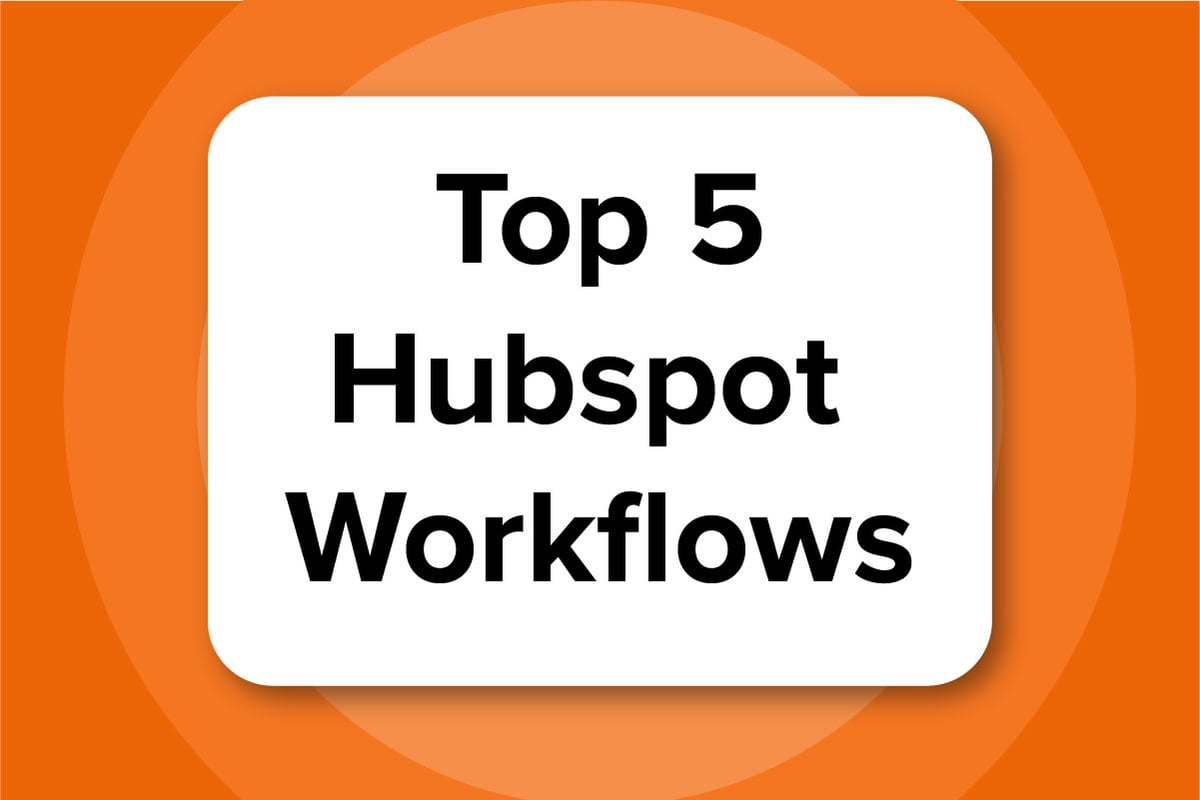 HubSpot's workflow tool is here to increase efficiency across your teams. If you're on HubSpot Professional or Enterprise, you have access to the HubSpot workflow tool. The workflow tool allows you to automate repetitive marketing, sales, and customer service tasks to scale up your activities. Using workflows, you can be more efficient, productive, and consistent. A game changer!
We find these top 5 workflows are the best ones to get started, will help you in understanding how workflows work and will give you ideas to make new workflows.
Top 5 HubSpot workflows for insurance brokers.
Workflow # 1: Assigning lead owners
Once a lead comes through, how do you ensure the right team member follows up? The HubSpot workflow tool can automatically assign leads to the relevant person in your team.
Auto assigning the new contact owner can be done based on
the website or landing page where a lead was submitted
product selected by the lead – ie a dropdown selection in a form
original source – if the lead came from website, socia media,,Google ad etc.
campaign name
The person in your brokerage that has been assigned the lead will automatically receive a notification to action the lead.
Workflow # 2: Sending FSG to new leads
Now that leads have come in and the right contact owner has been assigned, what else can we do? While a contact owner can be assigned as soon as a new lead comes through, your team member may not be able to get in touch with the prospect straight away, and that's okay. However, we can set up a workflow that will send an email with a thank you message and your FSG attached. This is a great way to let your prospect know that you have received their enquiry and will be in touch with them shortly. From a compliance perspective, your CRM has proof that the FSG has been sent, received by the lead and even if opened and how many times. All timestamped too so it's a great compliance feature.
Workflow # 3: Assign tickets – the sales to service handoff.
Another great yet simple way to utilise workflows in HubSpot is to set up tickets. HubSpot allows you to create tickets and assign them to users in your portal. By using workflows, you can trigger these tickets to be created automatically based on specific actions.
For example, once a deal is closed by your sales team and your lead is now a happy customer, you will want to ensure that someone from the account management team is notified and ready to start their side of the customer onboarding. Known as the sales to service handoff the process ensures your new customer is assigned to the relevant account manager. The workflow is triggered when sales moved the deal stage to Closed Won.
Workflow# 4: Internal Notifications
Workflows are also great for sending you alerts, ensuring you do not miss any communication from clients. Many of our clients use Message Media for SMS communication to customers. This tool is particularly useful when they have a claim to make and have images to send through. The integration of Message Media and HubSpot means we can set up a workflow to ensure that the contact owner/account manager is notified when their customer sends them a text message.
Workflow #5: Google Reviews
Maintaining high levels of customer satisfaction is always a priority. Unfortunately, without an active process in place, asking for feedback or Google Reviews is often a step that is missed after a deal is closed. Workflows can help you automate this process. You can build a workflow that will automatically send an SMS with your Google review link each time a sale is made or a ticket is closed. Once again, the integration of Message Media and HubSpot makes this process even easier.
As you can see, workflows can be used in different scenarios across your teams. The best way to think about workflows is to picture someone moving your lead further in their buyer journey. The level of automation workflows allow for means that your team will be able to spend more of their time where it matters. It also means that your customers also receive a far better customer experience with prompt accurate responses.
If you'd like to learn more about workflows, get in touch with us.